Free events this summer at Preston Markets
27 June 2023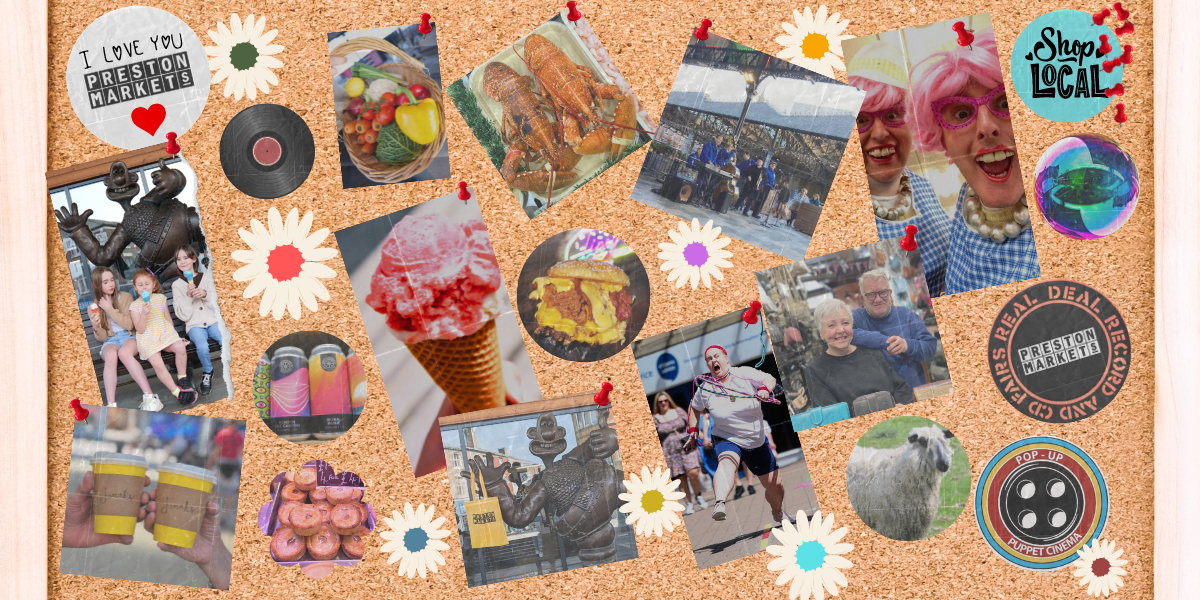 Discover our fantastic mix of events taking place this summer.
There's never been a better time to explore Preston Markets and create unforgettable memories. This summer we have a range of free events for all ages, all in the heart of Preston.
What better way to embrace the sunny season than by immersing yourself in the vibrant atmosphere of Preston Markets whilst supporting your local traders.
The Jive Aces
Date/time: Friday 7 July (6pm - 8pm)
The UK's number one jive and swing band The Jive Aces return to Preston Markets for a fantastic evening of live music and dancing. Come along in your best vintage attire to be in with a chance of winning a prize for best dressed dancer.
Best of Preston
Date/time: Sunday 23 July (2pm - 4pm)
The second in a series of Best of Preston summer events, held under the beautiful Victorian canopy at Preston Markets with refreshments available from The Orchard craft beer bar.
Each event will showcase eight singers, songwriters and spoken word artists from the greater Preston area who perform four pieces each, in this 'open mic' style event. Supported by Preston City Council and Lancashire County Council's, Crowd Fund Lancashire.
Taking the Commons to Preston Markets
Date/time: Saturday 29 July (from 12pm)
Come along and meet some of England's native rare breeds and the people who are ensuring their survival. Join the Foundation for Common Land and Rare Breeds Survival Trust to learn more about the history and heritage of commoning in England and England's native breeds.
You can meet sheep from the Dales, learn all about why the commons and the practice of commoning matter today, and find out how to support common land and the breeds which roam upon it. This event is part of a yearlong series made possible thanks to a grant from The National Lottery Heritage Fund, Take the Common to Town.
The native breeds will be joined by local knitting group 'The Knit and Purl Jam' who will be spinning wool, knitting and showing off their latest Aardman character addition, Shaun the sheep! Come along and have a natter.
Little Brass
Date/time: Saturday 5 August (11am - 3pm)
Sit, relax and soak up the atmosphere with wandering, New Orleans style three-piece band, Little Brass. We will also be joined by local dancers, Preston Youth Dance Group.
Bubbles, vinyl, puppets and more
Date/time: Saturday 12 August (from 9am until late)
A Saturday not to be missed, with the Real Deal Record and CD Fair, beneath the Box Market Canopy from 9am along with some amazing bubble entertainment from Paris Bubbles, set to begin at 12pm. Later on in the evening we have two shows from the Pop Up Puppet Cinema.
Pop-Up Puppet Cinema are Preston based and have been performing for a decade at local festivals and events with their unique, parody puppet performances of classic films.
The evening entertainment will begin with Back to the Future at 7:30pm and will continue at 9pm with a showing of their take on the famous Jaws film. Live band Supersonic Kicks will also be performing at The Orchard from 8pm. Don't miss out on this night of excellent entertainment.
Wonky Olympics
Date/time: Saturday 19 August (12pm - 4pm)
Two hapless PE teachers have decided to recreate the Olympic Games with some cones, hula hoops and a tiny megaphone - introducing the Wonky Olympics.
They've suited up in their PE kits, they're sporting their sweatbands and they aren't accepting any notes from your mum to excuse you from this class (not even the ones you've written in her handwriting!) Join us as they lead us through a wonky warm up, followed by silly games including chopstick javelin, sock-shotput, paper plate discus, and many more weirdly wonderful games. Great fun for kids and adults.
Best of Preston
Date/time: Sunday 20 August (2pm - 4pm)
The third in this series of Best of Preston events providing a platform for local songwriters, singers, poets and more. If you enjoy live music and you want to support local performers, get yourself down to one of these chilled out events with refreshments available from The Orchard.
Too Cool for School
Date/time: Saturday 26 August (11am - 3pm)
Are you too cool for school? Get the kids ready for their return to school with comedy dinner ladies Rita and Freda. They'll be checking to see if you've scrubbed your nails properly!
Later in the day, PE teachers Mr Stretch and Mr Armstrong will be out and about testing your sporting skills. Remember it's not about the taking part, it's the winning that counts.
Best of Preston
Date/time: Sunday 17 September (2pm - 4pm)
The fourth and final date in the Best of Preston series of events and this time it's part of a weekend schedule of culture and arts for the Encounter Festival.
Saturday live at The Orchard
Saturday nights throughout Summer
The Orchard craft beer bar have already begun their summer of live, outdoor music events, with a range of bands playing on Saturday nights throughout summer, from 8pm, underneath our beautiful Victorian canopy. To find out what's on see our events calendar.
All events at Preston Markets are absolutely free to attend so make sure you don't miss out on this summer of excellent entertainment.
Follow us on social
If you would like to find out more about Preston Markets you can follow us on Instagram - Preston Markets, Facebook - Preston Markets and Twitter - Preston Markets.
Fancy becoming a trader?
If you are thinking of expanding your business, find out how you can trade at Preston Markets.
Map address for Preston Markets
Preston Markets, Earl Street, Preston, PR1 2JA.