Happy New Year from Preston Markets
Posted: 3 January 2023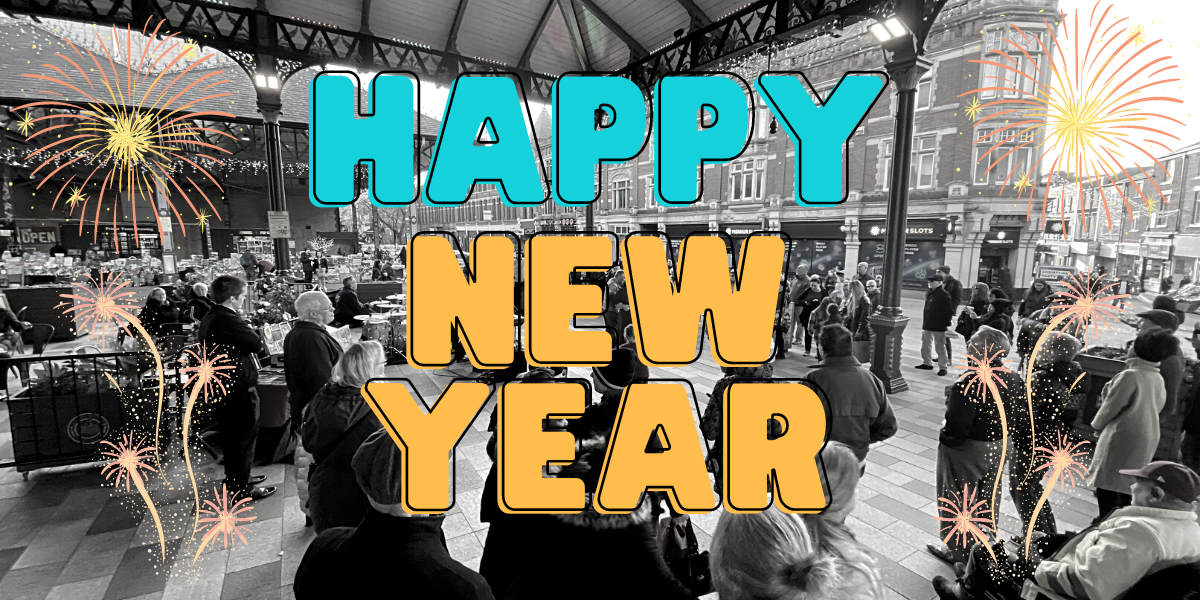 Reflective round-up of 2022
2022 was a busy and eventful year for Preston Markets with a visit from Royalty and several exciting events. A number of established traders have successfully expanded their stalls within the Market Hall and we have welcomed some brand-new traders who have had a very successful start.
All of this, on top of our customary offering of quality, locally sourced produce delivered to you by our welcoming and diligent traders.
Brass bands and bubbles
Summer Saturdays saw entertainment from roaming brass band 'Fat Cat Brass', The Liquorice Allsorts Ladies dished out bags of goodies, we had games from 'All the fun of the fair'. Circus performers took over the Box Market and to top it all off a stunning display and workshop from Paris Bubbles, who performed in Preston city centre for over 4 hours, creating a wonderful atmosphere and attracting children and adults alike.
Not to forget that The Queen's Commonwealth Baton Relay stopped off at Preston Markets on its journey through the 72 nations that make up the Commonwealth before ending its travels in Birmingham.


Visited by Royalty
To celebrate the 20-year anniversary of Preston's city status; awarded in 2002 as part of The Queen's Golden Jubilee celebrations. Preston Markets were visited in September 2022 by the Earl and Countess of Wessex. After meeting with local community group leaders, refugees and the Preston covid response team, they spent some time meeting and chatting with Preston Market traders and customers in the Market Hall, before having their picture taken on our famous Wallace and Gromit statue bench along with Nick Park CBE, the Preston born creator of the Aardman characters.

Preston Markets Craft Fair
In September, we introduced the Preston Markets Craft Fair which is held under the Box Market canopy on the fourth Saturday of the month. With a range of handcrafted items such as jewellery, bath bombs, gift cards, cakes and more. The craft fair will be returning in March 2023 along with our regular Real Deal Record Fair (Previously called The Masa record fair) which is also returning in February.
A UK first
The Lancashire Encounter festival of arts brought a very special event to our beautiful Victorian canopy when we hosted the UK's first Jatra, a piece of Bangladeshi folk art which told the story of a piece of fabric made in Bangladesh, and its journey across the world, to the UK.
The Orchard
bar also took part in the annual Preston based festival, hosting an open mic underneath the Outdoor Market canopy with performances of original music and poetry from local artists.
Spooky!
Halloween weekend saw our first performance of the year from Preston Youth Dance Group. The confident teens choreographed and rehearsed a pop culture lover's dream, with dances set to 80's Halloween classics! They even inspired a few spectators who were dancing along on the side-lines.
Christmas Jive and Christmas carols
December started with a bang when The Jive Aces came to Preston Markets on our first festive Saturday!
Whilst the band performed with their trademark vintage charm and charisma, the Preston Market canopy created the perfect setting for jive dancers to meet and show off their skills. Wherever in the country the Jive Aces perform, dancers will arrive and the atmosphere it creates is captivating. We are so happy that we managed to catch 'the best Jive band in the UK,' before they set off to tour the USA in early 2023.
The Salvation Army brass band were performing Christmas Carols throughout December at Preston Markets adding a lovely traditional festive ambiance to any Christmas shopping trip.
Preston Youth Dance Group returned on the second Saturday in December, this time with their Christmas performance which once again drew a crowd of spectators impressed by the confidence and ability of this local Preston-based dance group. The Preston Ukulele Strummers Society performed in the Market Hall on our final weekend of festive entertainment, filling the Market Hall with a lovely selection of Christmas Carols.
Ho ho ho!
With the ongoing cost of living crisis affecting many, particularly at a time like Christmas, when excitement and expectations are high, we wanted to bring a little bit of joy to the wonderful people of Preston with a free Santa's Grotto in the Market Hall, which was extremely popular.
Over the two dates, Santa met over 300 of Preston's little ones and gave away free gifts to all.
Happy New Year and a huge thank you
Finally, everyone here at Preston Markets would like to say a huge thank you to you! Our amazing customers who have continued to shop local in 2022. We really appreciate your support and wish you an incredibly Happy New Year.
There are some exciting plans in the pipeline for 2023. Follow @prestonmarkets on Facebook, Instagram and Twitter to make sure you don't miss out.