Preston's historic songs on display at Preston Markets
26 April 2023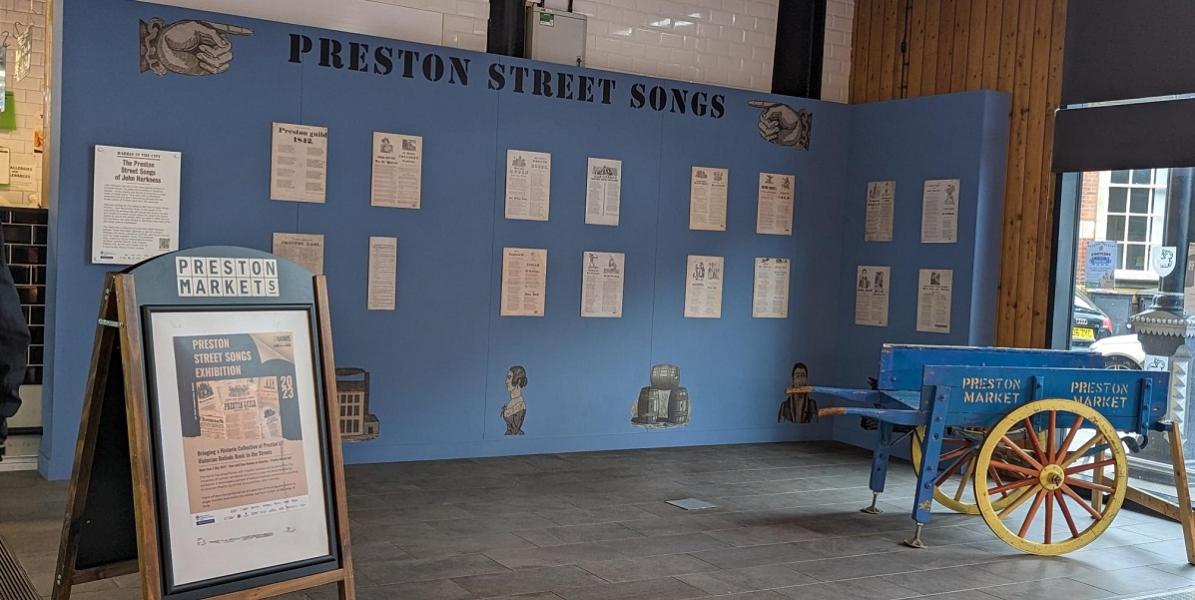 A historic collection of Preston's Victorian street songs are set to be displayed and performed at Preston Market Hall.
The Harris has joined forces with Preston Markets and students from The University of Central Lancashire (UCLan) to curate this 'Harris in the City' exhibition which showcases a sample of ballads originally printed and published in the 1800s by Preston printer, John Harkness, and will include a live singing performance.
Sarah Threlfall, Deputy Chief Executive and Director of Community and Wellbeing at Preston City Council, said:
"This is an exciting opportunity for history lovers to view these snippets of Preston history and what better place to see them than beneath Preston Markets' Victorian canopy.

"The exhibition will be in place until July so there is plenty of time for people to come along and also pick up some local, Lancashire produce whilst they're there."
The 16 reproductions of broadside ballad sheets contain 30 poems and songs and are illustrated by wood block prints. Originally printed on thin paper, these examples are some of the rare survivors that are part of this valuable archive. They were a cheap way to spread information and provide amusement to the people of Preston and further afield and cover a wide range of subjects including comic tales, love stories, tragedies, brief histories and songs about Preston. Some ballads mention Preston places and events such as the gaol and Preston Guild, offering a fascinating glimpse into street culture in Preston, more than 150 years ago.
John Harkness was based at a number of premises in Preston including 8 Water Street (now Manchester Road) and 121 Church Street. He began printing the ballads in around 1842 and continued until at least 1896. The Ballads were published in Preston but were likely sold further afield in Carlisle, Liverpool and London. The whole Harkness collection consists of more than 1000 Victorian street ballads.
All of the ballads have been digitised by Lancashire Archives and catalogued by Harris volunteers as part of the wider Harkness project that partners The Harris, UCLan and Lancashire Archives. This catalogue will be made available online soon as a research tool for anyone with an interest in local history.
This exhibition forms part of The Harris outreach programme, creating opportunities for the public to enjoy The Harris' diverse collections whilst the building undergoes extensive refurbishment. This opportunity to return the songs to the streets has been curated by second year UCLan history and international students who are doing a Community History module, where students work with industry partners such as curators from The Harris, to develop live projects and gain real-world experience. The module builds on the UCLan History team's long-standing commitment to working with local and regional groups and organisations interested in exploring the past.
View the Harkness Ballads
The Harkness ballads will be available to view from Tuesday 2 May 2023 at the Earl Street entrance to Preston Market Hall from 8am until 5pm Monday to Saturday, until mid-July.
Live performance of street ballads
There will be a live performance of a selection of ballads by singer Jennifer Reid, within the Market Hall from 2pm on Saturday 10 June.
All the latest on Preston Markets
To keep up to date with all the latest news and updates follow @prestonmarkets on Instagram, Twitter and Facebook.
Preston City Council actively applies and prioritises the principles of Community Wealth Building wherever applicable and appropriate. Community Wealth Building is an approach which aims to ensure the economic system builds wealth and prosperity for everyone. For more details visit Invest Preston - Community Wealth Building.