Tipsy Chef expands with grand opening of second restaurant
29 August 2023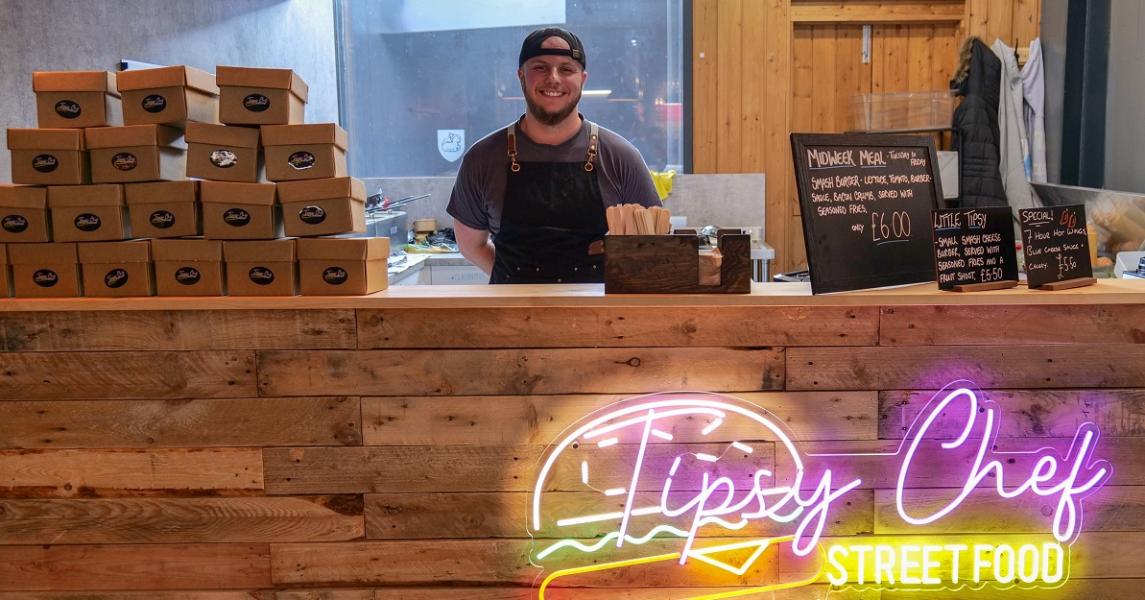 After the resounding success of their debut restaurant within Preston Market Hall, which opened in April 2022, Tipsy Chef Street Food have launched a second venue in Preston city centre.
This marks a significant milestone for owner, Jay Oates, who only 16 months ago started on his first venture and captivated food enthusiasts with his innovative culinary creations.
Tipsy Chef's journey began with their first stall within Preston Market Hall, the establishment quickly becoming a local favourite, drawing foodies from all corners with their delicious street food and vibrant atmosphere. This success paved the way for expansion as demand continued to grow.
The grand opening night of the second restaurant, located on Lancaster Road, was notably, fully booked.
Tipsy Chef Owner, Jay Oates expressed his gratitude for the support he has received from the local community:
"Preston Market Hall was the perfect place to start my business, find my feet and build an amazing customer base. That being said, I always envisioned a bigger location open into the evening, serving wacky cocktails and playing awesome music. Our market location is home turf and will always remain open serving up fresh exciting breakfast, brunch and lunches to the city, whilst our restaurant takes over the nighttime service.

"It's been a hell of ride these past 16 months, I wouldn't change a thing; our brand is now known throughout Preston and even further afield, we have people visiting us from throughout the country. Thank you to every single person that's dined with us, liked our posts, and told a friend.

"Without you Tipsy Chef wouldn't have its second location. We can't wait for you to come and try our new menu!"
Preston Market Hall, owned and managed by Preston City Council has been the starting platform for several fledging businesses who have gone on to expand and succeed outside the Market Hall.
Councillor Freddie Bailey, Cabinet member for environment and community safety, said:
"A huge congratulations to Jay for this amazing achievement - not only a celebration of his remarkable journey but also of growth within the heart of Preston.

"As a central hub for locals and visitors, Preston Market Hall offers the ideal platform for new and expanding businesses to thrive. With a guaranteed footfall and regular events throughout the year, along with an opportunity to work besides some of Preston's keystone businesses, such as Livesey's Butchers."
True to its roots, Tipsy Chef's second restaurant features the same commitment to quality ingredients, inventive dishes and impeccable service that earned it a dedicated following.
You can find Tipsy Chef within Preston Market Hall, open Monday to Saturday from 8am until 5pm, and now at its second location on Lancaster Road, open Thursday to Sunday from afternoon until late.
Discover our Market Hall traders
To find out more about our Market Hall traders see Market Hall traders.
Map address for Preston Markets
Preston Markets, Earl Street, Preston, PR1 2JA.