Book trader celebrates 45 years at Preston Markets
17 March 2023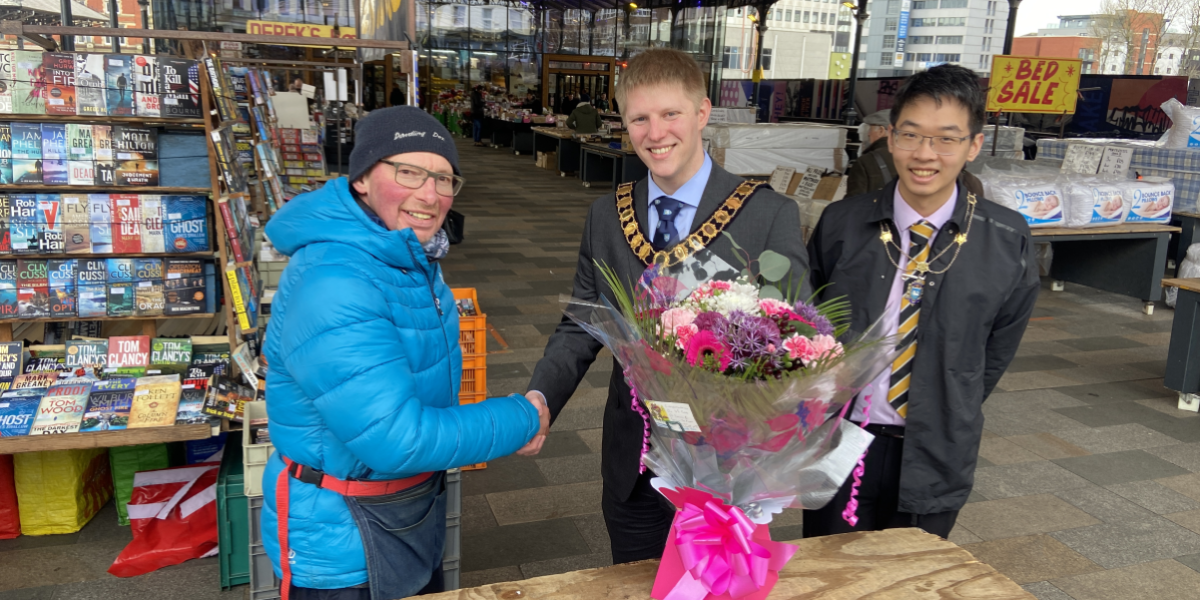 A Preston Markets trader is celebrating his 45th year of business.
Derek Walsh, 61, has held a stall on the Outdoor Market for more than four decades, but he has been a part of Preston Markets for much longer.
On 15 March, Derek was visited by the Mayor of Preston and Councillor Carol Henshaw who presented Derek with a wonderful bouquet of flowers, to thank him for his long service and hard work.
The Mayor of Preston, Councillor Neil Darby said:
"Derek has worked hard, out here under the canopy, in all weathers for 45 years. It is so interesting to hear Derek's stories about growing up at Preston Markets and what a rich history Preston has enjoyed."
As soon as he was old enough, Derek was attending Preston Markets with his father Fred at their family stall 'The Book Exchange'. As a baby, Derek was placed in a box under the stall with a few toys to keep him occupied. By the age of six, Derek was running errands for traders.
Derek said:
"They'd give me half a crown to fetch them a packet of cigarettes when I was about six years old, you wouldn't get away with that these days!

"I lived for going to the markets on a Saturday and I have so many good memories. In about 1968 when the old indoor market was being built, me and a few mates were playing in the sand on the building site. I got back to the stall, and I was covered in sand. My dad gave me a right pasting!"
At the age of 18, after two years doing odd jobs, Derek gave up on his dream to become a joiner and in 1978 decided to follow in his father's footsteps and open a book stall at Preston Markets.
Derek added:
"Some of my fondest memories are of working the stall with my dad. In the 80s and 90s we had a lovely little community, with Dorothy's Flowers and Jimmy and his wife on the wool stall. There was a hierarchy when it came to the stall positions. The canopy was packed with traders and the longer you'd been here, the better position you got. When someone left, the longest trading stall got first refusal - it was an unwritten rule.

"I absolutely love having my own business. I enjoy seeing my regular customers, they've kept me going over the years. My dad always said: "It can take months to get a regular customer and minutes to lose them." I wouldn't have been able to do it without my wife though, she keeps me organised. It's a different world now than when I began trading, but I still love it."
Carol Henshaw, City Centre Ward Councillor for Preston City Council, said:
"I used to buy books from Derek as a teenager, it's wonderful to see him still going strong after 45 years.

"Independent, local traders are what Preston Market is all about and it's thanks to the regular customers choosing to shop local, that Preston Markets is still thriving."
Preston's Outdoor Market trades every Monday, Wednesday and Saturday with Second Hand Markets on Tuesday and Thursday.
Further information
For all the latest news and information around Preston Markets visit the website and follow @prestonmarkets on Instagram, Twitter and Facebook.
Preston City Council actively applies and prioritises the principles of Community Wealth Building wherever applicable and appropriate. Community Wealth Building is an approach which aims to ensure the economic system builds wealth and prosperity for everyone.
Media enquiries: Leona Bylinski, Communications and Marketing Officer, 01772 906498.
Map address for Preston Markets
Preston Markets, Earl Street, Preston, PR1 2JA.