Popular Preston Markets Butcher Celebrates Business Milestone
22 February 2023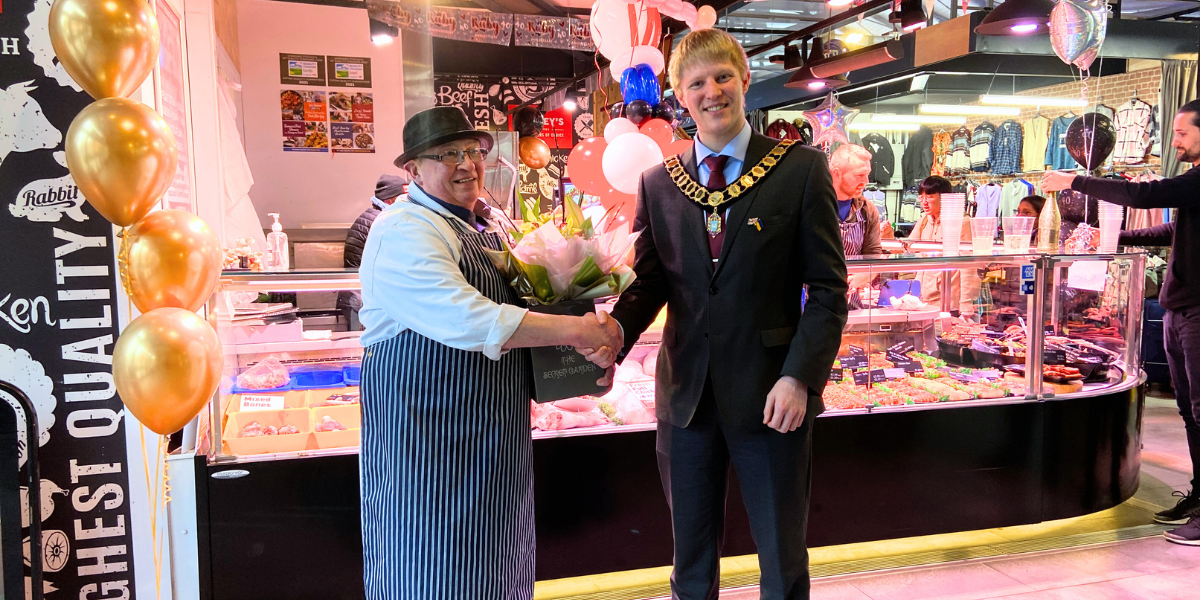 A popular Preston Market trader is celebrating his 40th anniversary in business.
Adrian Livesey, owner of Livesey's Butchers, is a well-known favourite with his customers. The stall not only offers high quality, locally sourced meats, but offers a wealth of knowledge about his products, along with a friendly chat.
Adrian began his career as an apprentice butcher when at the age of 15 his father told him that he had two weeks to find a job. Adrian went on to open his own successful business in Chorley on 21 February 1983, moving to Preston Markets in 2002.
Livesey's is now a family business which Adrian runs along with his son, Sam. They have been working together successfully for many years.
Adrian said:
"I left school with little in the way of qualifications and had my heart set on being a professional footballer. My father scuppered those plans and said that I had to get a job within two weeks, or I was out of the house. Fortunately, after a brief chat, the local butcher took me on as his apprentice and 54 years later, here I am.

"I remember starting my apprenticeship like it was yesterday, it was the week Neil Armstrong walked on the moon in 1969. I really didn't enjoy butchery at first, but I was inspired by my boss at the time. He was a hard worker who had achieved a lot at quite a young age. He spurred me on and before I knew it, I really started to enjoy it.

"I'm very lucky to have a close and loving family. My children and grandchildren mean the world to me and I'm happy that I can work closely with them. I enjoy being part of Preston Markets too, I only wish that I had moved here sooner. It opened many opportunities for my business, I provide the meat for many city centre restaurants and have lots of lovely regular customers.

"One of the highlights of my career was meeting with royalty when the Earl and Countess of Wessex visited Preston Markets in September 2022. They were absolutely delightful to speak to."
On Tuesday 21 February, Adrian's family organised a surprise celebration in Preston Market Hall. With messages from customers, past employees, long time suppliers and a poem written by a customer and friend.
Adrian was also visited by the Mayor of Preston, Councillor Neil Darby who presented him with a bouquet of flowers on behalf of the people of Preston, to say thank you for his hard work and dedication over the past four decades.
Councillor Neil Darby, Mayor of Preston, said:
"It is wonderful to see a local business thrive for so long.

"Preston Markets creates the perfect opportunity for a small, hardworking family enterprise like Livesey's to succeed.

"During the Covid lockdowns local businesses, such as Livesey's and other Preston Market traders, chose to diversify in order to provide food for the local people when the supermarket shelves were empty. These are the actions that set local businesses apart from the rest and why I would like to say a huge thank you to Adrian Livesey from the proud, Preston residents."
You can find Livesey's Butchers within Preston Market Hall. It is open Monday to Saturday 8am until 5pm.
Further information
Preston Market Hall turns five years old in March this year. You can keep up to date with all the latest information on this website and by following Instagram - @prestonmarkets, Twitter - @prestonmarkets and Facebook - @prestonmarkets.
Follow Livesey's Butchers on Facebook - AdrianLiveseysButchers and Instagram - liveseysbutchers.
Preston City Council actively applies and prioritises the principles of Community Wealth Building wherever applicable and appropriate. Community Wealth Building is an approach which aims to ensure the economic system builds wealth and prosperity for everyone. For more information visit Preston City Council - Community Wealth Building.
Media enquiries: Leona Bylinski, Communications and Marketing Officer, 01772 906498.
Map address for Preston Markets
Preston Markets, Earl Street, Preston, PR1 2JA.