Preston Market Hall celebrates five-year anniversary
10 March 2023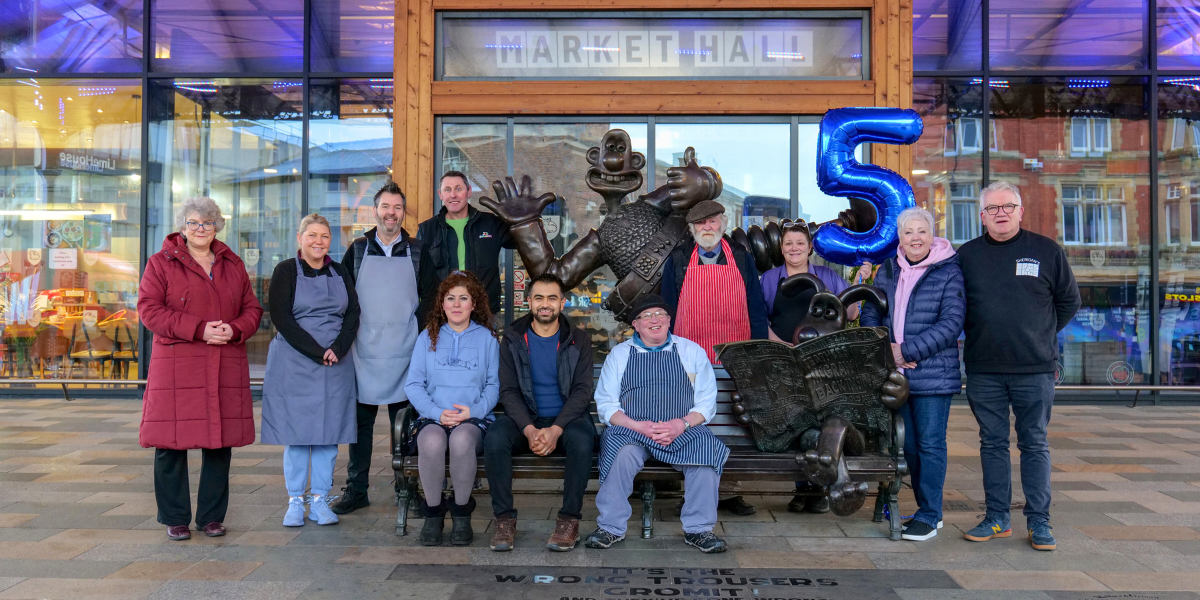 Preston Markets traders came together this week to celebrate the Market Hall's fifth birthday.
The upgraded Market Hall, officially opened on 10 March 2018, continues to grow from strength to strength with many traders growing their business and expanding their stalls, as well as new start-ups.
To mark the special anniversary, Preston Market traders gathered together, along with Councillor Carol Henshaw, at the iconic Wallace and Gromit bench, for an official photo. Many traders have decorated their stalls for this landmark occasion.
The Tipsy Chef street food restaurant is thriving since opening in April 2022. Jay Oats, owner of Tipsy Chef, said:
"After over a decade of running kitchens in and around Lancashire, I decided during lockdown that I wanted to go out on my own, to use my knowledge and experience to create something special. Preston fitted the bill as the perfect place to open my first little business and where better to start than a thriving indoor Market Hall full of passionate, small, family run, local business with access to fresh Ingredients every morning.

"We will be open a year in April, and we have gone from strength to strength, every week we break our own records. A few stand out milestones for me are, joining up with Preston's best bar and nightclub Baluga where we sell out bottomless brunches every month. We then had a visit from the famous competitive eater, BeardMeatsFood who took on our eating challenge. The video of this now has nearly 4M views on his YouTube channel. We also joined Uber Eats, so our menu is now available for home delivery."
Preston's history as a market town dates back to 1179 when King Henry II granted Preston a Guild Merchant charter. The current market canopy was built in 1875 to house Preston's growing market traders and nearly 150 years later, the elegant Victorian structure is still standing.
Karen Davie is a long-time trader at Preston Markets and has been trading as Karen's Collectables for more than 20 years. She is currently based on the Box Market selling a huge range of items from collectables such as coins, militaria, pocket watches to silver jewellery such as rings, bangles and chains.
Karen said:
"I started off with my stall on the Outdoor Market, I was trading there for many years. I was asked to join the Box Market when it opened in 2018 and I jumped at the chance.

"The addition of the Market Hall has really brought Preston Markets up to date, and the stalls still sell the amazing fresh, local produce that they used to. It looks much more modern now and I'm really looking forward to the new development opening and what that will bring with it."
Regeneration plans are ongoing to create Animate, a £45m entertainment and leisure complex. This will include a cinema, bowling alley, bars and restaurants on the site of the former indoor market, to ensure that Preston city centre stays up-to-date and relevant to the ever-evolving social needs of the local residents, growing student population and visitors to Preston.
Councillor Matthew Brown, Leader of Preston City Council, said:
"Preston Markets has been at the heart of Preston city centre for over a century, a hub of activity supplying local produce to Preston residents and visitors alike. Our new Animate scheme, will enhance the Markets and bring more people into the city centre.

"Building the new Market Hall and the renovation of the original Victorian canopy in 2018 meant that this proud Preston asset could continue. Over the last five years, the Market Hall has seen many small businesses both new and established, grow and thrive. Some have expanded within the Market Hall, others that began there moving on to new locations but the last five years haven't all been smooth sailing.

"When the Covid lockdowns hit in 2020, just two years after the official opening of the new Market Hall, supermarket shelves were empty, and many businesses were not able to open to the public. However many Preston Market traders began offering delivery of their quality, local produce to their valued customers, ensuring that their vital service was not lost.

"When shopping returned to normal, those customers came back to the Market Hall in their droves and we are very grateful for their continued support. Preston Markets is a successful example of the community wealth building strategy, which is implemented by Preston City Council, enhancing the local economy."
Councillor Carol Henshaw, city centre ward Councillor for Preston City Council, added:
"It was wonderful to visit Preston Markets for this special occasion, I enjoyed chatting with traders who work hard to create a wonderful city centre hub. It is also thanks to the people of Preston who choose to shop local and support local businesses, that Preston Market Hall has been a success.

"I am very excited to see how the Animate scheme will enhance this area even more over the coming years."
More information on opening times and the stalls can be found in our trader section.
Traders celebrating 5th year anniversary
Further information
Follow Preston Markets on Instagram, Twitter and Facebook @prestonmarkets.
Preston City Council actively applies and prioritises the principles of Community Wealth Building wherever applicable and appropriate. Community Wealth Building is an approach which aims to ensure the economic system builds wealth and prosperity for everyone.
Media enquiries: Leona Bylinski, Communications and Marketing Officer, 01772 906498.
Map address for Preston Markets
Preston Markets, Earl Street, Preston, PR1 2JA.